The CMS 100 is designed to clean the entire fuel system - injectors intake,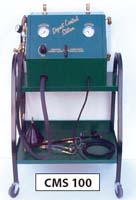 valves, combustion area. This system is to be used in conjunction with specially-formulated cleaning products. Performing an emission service is easier than ever. The CMS 100 uses a unique spill/vapour-free system to dispense cleaning fluid to the fuel system. The specially-formulated cleaning fluids are structured to remove sludge, varnish, gum & baked-on carbon in the intake plenum, injector tips, sensors, air idle valve, as well as valve & combustion chamber deposits. An adapter kit is provided to flush fuel rail & injectors. A complete fuel-emission service can be completed in as little as 15 minutes, maximizing valuable shop time & adding a valued service to the shop.
Connects to the fuel system for injector cleaning process (optional fitting package)
Quickly connects to all vehicles through air
induction host
Atomizes the chemical as its sprayed into the
intake, maximizing the chemical efficiency
Adapters for different plenums
Idle Up-tool included
Fuel pressure test:
- pressure regulator; injector leak down; fuel
pump check valve
Designed to clean the injectors, also entire intake & combustion areas!
Quick & easy hook up
Increased shop revenues
Immediate & noticeable improvement
Restores engine performance
Lowers Harmful emissions
Customer satisfaction
---
FSE 130 applies cleaner as an atomized mist. This provides a more even

distribution of the cleaner to all intake runners and valves as well as the
combustion chamber.
Cleans deposits from intake valves, fuel
injectors & combustion chambers
Restores lost power
Improves fuel economy
Operates on shop air
No aerosol cans required
Application time is minimal