---
Model 24164 & Model 24190
Now you can avoid spills and eliminate the mess associated with collecting waste oil and similar fluids. These waste oil drains offer a handy and practical method suitable for draining motor, gear, differential oils, and coolants from vehicles located on lifts or pits. With these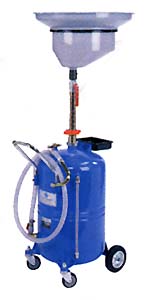 drains you have a closed loop system for moving waste oil and engine fluid from the vehicle to a recycling center.
These waste oil drains help comply with today's exacting environmental guidelines, minimizing the risk of hazardous materials coming in contact with personnel or the environment. The used fluid simply gravity drains into the large 22" diameter, 3 1/2 gallon drain pan, which then drains into the 16 or 24 gallon holding tank. Approximately 7 PSI of shop air is used to quickly and easily evacuate the fluid from the tank, a safety relief valve prevents over-pressurization. Alternatively, a dry break disconnect kit is available if evacuation via a double diaphragm pump is preferred.
These drains are easy to use and come complete with a fluid level sight gauge, removable, easy to clean tool tray and a transmission pan extension including a grid to allow the drainage of filter canisters.
The drain pan is swivel mounted so you can easily align the drain pan with the fluid flow, without having to move the entire unit. An additional safety feature is provided via a safety vent which prevents the pressurization of the tank if the riser tube is not in its full up and locked position. This eliminates the possibility of accidentally discharging oil via the riser tube.
These waste oil drains are fast, efficient, easy to use and extremely portable, simply roll them to the desired location. They are a major component in the recovery, containment and recycling of waste oil and engine fluids. A full range of draining and extraction
equipment is available for most any application.
| | | |
| --- | --- | --- |
| | Model 24164 | Model 24190 |
| Tank Capacity | 16 gal. | 24 gal. |
| Collection Bowl Capacity | 3 1/2 gal. | 3 1/2 gal. |
| Min. Working Height | 44 1/2" | 49" |
| Max. Working Height | 63 1/4" | 69 1/4" |
| Shipping Weight, 2 ctns. | (48)(13) lbs. | (62)(13) |

Warning: Do not use oil drains for gasoline or other flammable fluids.
---