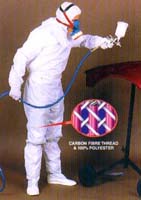 Available in 5 sizes

SIZE

TO FIT CHEST

Small

95 cm

Medium

100 cm

Large

105 cm

X Large

110 cm

XX Large

115 cm
Features
Safety:
Carbon Fibre thread dissipates electro-static charges or discharges (not anti-static coated) protection from harmful overspray.
Comfort:
Material breathes to reduce body heat build up. Freedom of movement. Extremely lightweight.
Lint Free:
Limits customer problems and/or complaints that could arise from paint contamination during the application process.
Cost Effective:
Large reductions in replacement costs. Life expectancy 3-4 months.
Practical:
Re-usable, washable (water or thinner), durable, long life
Design:

Seperate hood (no pulling on head and neck) when kneeling or stretching.

Velcro fastened, elasticised waist, wrists and ankles, double stitched.