Call Now!
800-661-5058
Complete Tranmission Flushing Unit
Air Operated Optional Coolant Line Hook up
Used for:

Transmissions
Power Steering Racks
Gear & Differential Oil
*Evacuate oil through the dip stick and leave the pan empty
*Adds ONLY 3-5 minutes extra to a manufacturers suggested transmission service
*Why change 30% of the fluid when you can change 100%?
THE ONLY Dual Method Flushing Unit
Air Operated - an industry first!
All attachments are Quick Connect
Quality Built - to Last
100% non-corrosive stainless steel
and PVC construction
Compact and fully portable for ANY size shop
YOUR CHOICE!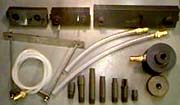 METHOD 1 - Filter Port
When flushing using this method 3 - 5 minutes can typically be added to the manufacturer suggested transmission service of dropping the pan, cleaning the magnet and replacing the filter.

This unit also drains the pan through the dipstick to facilitate dropping the pan without the mess, the adapter then connects to the transmission filter port, the automobile is then started for 1 1/2 to 2 minutes (pan off) which exchanges fluid in the transmission torque converter, cooler lines, and cooler. After the pan is replaced, the unit is then used to add 3 - 4 quarts of fluid to replenish the transmission pan.

METHOD 2 - Coolant Line
Typically a hoist is not required when flushing through the coolant line. You use the quick connect attachments that are supplied (and pictured) to attach the hoses. Running the vehicle for a few seconds will determine the direction of the flow.
Once the flow is determined you can attach as is approriate and begin flushing the transmission.

---

Mega Power's Transmission Service provides the maximum protection available on the market today.. a virtual "life assurance policy" for your transmission. Each component of this two-part kit performs a special function.

Part 1: "Transmission Flush" cleans the complete transmission interior. Damaging sludge, varnish, and contaminating grime are then drained or flushed away with the worn-out fluid. During this cleaning process, moving parts are protected with MC+.

Part 2: "Transmission Cooler and Conditioner" is then added to the new transmission fluid. This special Mega Power formula with MC+ protects and revitalizes your transmission for thousands of miles of worry-free driving.

Transmission Service Benefits:
Extends the life of your transmission
Reduces friction, heat and wear
Improves transmission fluid circulation
Protects against rust and corrosion
Cleans sticky shift valves for smooth acceleration
Conditions seals, o-rings and gaskets
Promotes cooler and quiter operation
---