Finds those leaks and more in seconds!
Model No. 2000E
Test Exhaust Gas Recycle Valves, Vacuum Hoses, Vacuum Hose Connections, Vacuum Switches, Choke Pull-off Diaphragms, Intake Manifold Gaskets, PCV Valve & Hose Carburetor Base Gaskets, Vacuum Advance, Modules: Map Sensors, Air Cleaner Hose, Throttle Body Shaft, Loose Clamps, Throttle Body Gaskets, Injector O-Rings, Air Ducts, Air Valve, sAir Flow Meters, Intake Air Hose, Throttle Plates, ., Etc.
Model No. EELD601
The EVAPro has Ultra Violet activated fluorescent dye that takes this machine to the next level. Using UV light, the technician can pinpoint the exact location of the leak(s).
The EVAPro can be calibrated to identify leaks at .020 and .040 and is capable of detecting leaks much smaller than .020. This allows the unit to keep pace w i t h t e s t i n g s t a n d a rds as they change.
100-PSI
Preset Gas Flow Regulator
Part No. 200-22-227NG
****Receive an extended 2 year warranty with the purchase of
Part # P0716UV...16oz UltraTrace UV Smoke Solution
WVA-050 Metal Cart Station
Exclusive heavy-duty, black powder-coated cart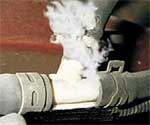 holds the EVAPro or EELD601 securely in place allowing for easy transport anywhere in the service bay. A specially designed tray conveniently carries nitrogen tank. Extra lower shelf holds accessories, handtools andmore.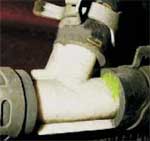 ---