the perfect companion to the C 800-4 Automatic Tire Inflator
Customer Benefits: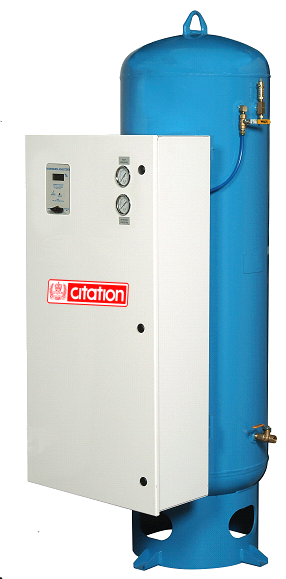 The customer gets a safer ride, longer tire life and better gas mileage.
Dealership Benefits:
ROI in as little as 4 weeks, with better customer loyalty
Specifications:
þ Membrane Separator
- High efficiency design separates oxygen from the compressed air for Nitrogen purity up to 99.9% with
NO MOVING PARTS
þ No Electricity Required
- Fully pneumatic design
þ Premium Filtration:
(6 Stage filtration system) with:
- 2 - Stage High efficiency coalescing elements,
- 3rd Stage is instrument grade coalescing filter. Both have automatic drains.
- 4th Stage is oversize carbon pellet bed followed by a 2-stage filter to remove dust particles for the final 2-stages of filtration
Gives a degree of extra protection to the membrane separator.
þ Premium Purity Controller
- Only controller that can guarantee purity in the customer's tires
þ EconoMizerTM
- Saves ware and tear on the air compressor by shutting off the air when Nitrogen is not needed
þ Tank Mounted
- Nitrogen generator is housed in an attractive white powder coated cabinet with full hinged door for easy maintenance access. The cabinet is mounted on a blue vertical 80 gallon ASME/CRN tank with inlet, (2) Outlet and Vent Valves and an ASME Safety valve.
þ Schraeder Valve
- For Nitrogen purity check with hand held analyzer.
þ Two Pressure Gauges
- Membrane Inlet and Nitrogen Pressures
þ Nitrogen Analyzer System
- Includes battery operated analyzer with auto shutoff, calibration button, calibration selector switch for calibration with compressed air.
Model Number:
CN2 900-6 is 6.4 scfm
CN2 900-9 is 9.0 scfm
CN2 900-14 is 14.0 scfm
CN2 900-17 is 16.8 scfm
Standard Unit:
EconoMizerTM , 80 gal tank
Premium Purity Controller, 6 month maint
On panel Nitrogen Analyzer System
6 Stage premium filtration
A hand held Nitrogen Analyzer
a flow control meter for set-up and service
Note: All models look the same
Options Sold Seperately:
* Hand Held Nitrogen Analyzer
* an extra 80 gallon tank for more storage capacity
* air dryers with re-heater