It makes it's own
Nitrogen from a regular shop air line.

(no extra tanks of Nitrogen to buy or keep refilling)
No external power source required to run this machine
It will vacuum the existing air from the tires and refill them with 98% Pure Nitrogen in minutes
Just hook it up and let it work
Tires filled with Nitrogen are much more stable then those filled with regular air.
Ask yourself, why do NASA Car and Airplanes use it?
The answer Nitrogen is not as susceptible to
temperature change as is regular air because of it's bigger molecules.
On a hot day tires will run cooler. On a cold day tires are less likely not lose pressure
No more moisture inside the tires to corrode the rims at the bead seal
Left Side View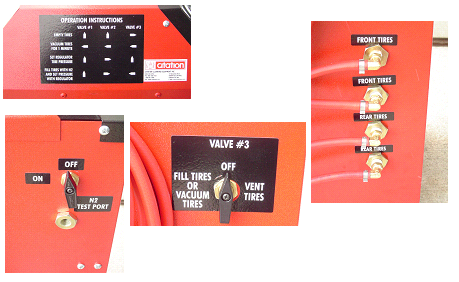 Clearly Marked Controls and instruction labels make the
CITATION CN2-900 and CN2-930
Pure98 Nitro Tire Inflator the perfect machine for both professionals and beginners alike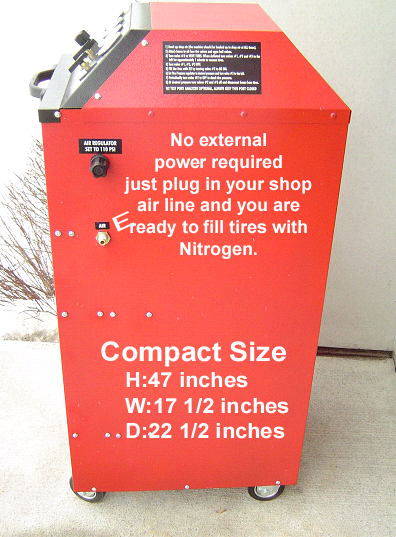 Right Side View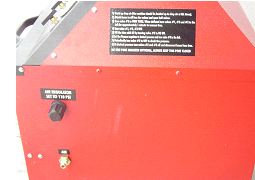 TECHNICAL DATA
CN2-900---25 gal tank---4 to 5 SCFM
CN2-930---50 gal tank---9 to 10 SCFM
4 tire hook up
Makes it's own Nitrogen (97-98%)
Will do 15-25 vehicles per day
Total weight of only 165 lbs
Small footprint but very powerful
One year limited warranty